SEARCH
LANGUAGE
FOLLOW US ON
FEEDBACK
BHOLAA is the story of one crazy night involving drugs, gangsters and a father dying to meet his daughter. ACP Diana (Tabu) fights a gang of thieves and confiscates 900 kgs of drugs from them, worth Rs. 1,000 crores. She hides the drugs in the basement of the sprawling Lalganj Police Station. At night, she attends the retirement party of I G Jayant Malik (Kiran Kumar). In a strange turn of events, all the 50 cops at the party faint one by one after drinking the spiked drink. Diana, who was injured, didn't consume alcohol and she's the only one on her feet. Her undercover cop Bhoora (Arpit Ranka) informs her that Ashwathama aka Ashu (Deepak Dobriyal), whose drugs she has confiscated, is determined to finish off the cops. He's also all set to take back his drugs consignment. Diana has only one choice – ask Bholaa (Ajay Devgn) to help her ferry the unconscious cops to the hospital before they die. Bholaa has just got released from jail after 10 years. He is all set to go to an orphanage to meet his daughter Jyoti (Hirva Trivedi) whom he has never seen before. Diana, however, spoils his plan as she asks him for help. Bholaa agrees when she promises to secure Jyoti's future in return for his services. The truck journey begins. Sadly, Ashu and his gang put several roadblocks in the 80-kilometer-long journey. What happens next forms the rest of the film.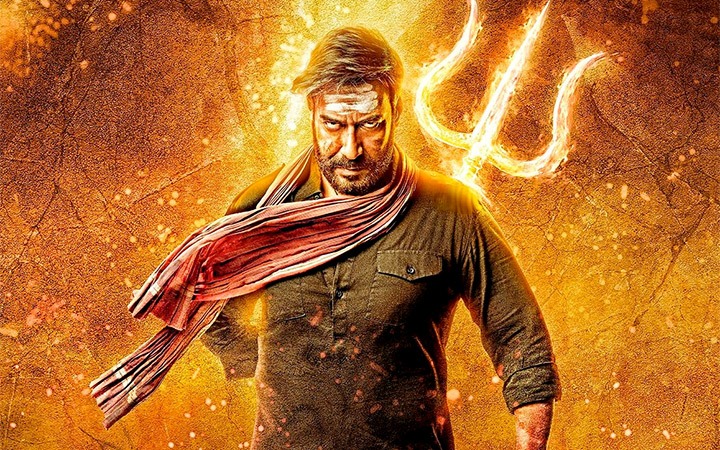 BHOLAA is the official remake of KAITHI [2019]. Lokesh Kanagaraj's story is promising and has all the trappings of a full-on commercial entertainer. Ankush Singh, Aamil Keeyan Khan, Sriidhar Rajyash Dubey and Sandeep Kewlani's screenplay could have been more impactful. A few scenes, however, are well thought of. Ankush Singh, Aamil Keeyan Khan, Sriidhar Rajyash Dubey and Sandeep Kewlani's dialogues are meant to induce claps and whistles.
Ajay Devgn's direction is praiseworthy. He has handled the grandeur well. A few action scenes will take your breath away. It's also heartening to see that the focus is not just on him and the supporting characters also get a chance to shine. He has also put the effort in making the villains seem menacing while also providing them ample screentime to create an impact on the viewer.
On the flipside, the film is visually quite dark for the commercial audiences. The emotional angle is a bit weak and it hampers the impact to some extent. Also, the narrative involves Bholaa being confronted by various gangs. It leads to predictability as you know that once he finishes off a gang, he'll soon be attacked by the next.
Bholaa: Official Trailer | Ajay Devgn | Tabu

Speaking of performances, Ajay Devgn is in great form. He looks very dashing and scores in the action scenes. His entry is a bit late though. Tabu gives her best and her introduction scene is rocking. Amala Paul has a fine screen presence but is hardly there in the film. Deepak Dobriyal is quite nice as the hysterical antagonist. Vineet Kumar (Nithari) is passable. Gajraj Rao (Devraj) is disappointing as it's not properly established who exactly he is. Sanjay Mishra (Angad Yadav) is likeable. Lokesh Mittal (Corrupt cop) leaves a mark while Arpit Ranka, Amir Khan (Kadchi), Chetan Sharma (Chashmish), Deepali Gautam (Naina) are decent. Kiran Kumar is fair. Raai Laxmi looks sizzling in the item song.
Ravi Basrur's music is alright. 'Nazar Lag Jayegi' is catchy. 'Aadha Main Aadhi Vo' fails to entice. 'Paan Dukaniya' is well choreographed. The title song is nicely tuned. Ravi Basrur's score is massy and enhances the impact.
Aseem Bajaj's cinematography is breathtaking. Ramazan Bulut and R P Yadav's action is one of the high points. A few shots, however, are too violent. Navin Shetty, Radhika Mehra and Divyak D'souza's costumes are realistic. NY VFXWaala's VFX is rich. Dharmendra Sharma's editing could have been sharper as the film is quite lengthy.
On the whole, BHOLAA is a mass-appealing film with scale, grandeur, breathtaking action, and Ajay Devgn and Tabu's mind-blowing performances as its USP.
Skip this step for now
5000 characters remaining